I just found a fascinating video that speaks very much to some of the things I've been reading lately (and have read about in the past.) It's an interview with a man named Stephen Jepson. In his former life he was a very accomplished ceramics maker and teacher (Is that what they're called?  Or potter?) He founded the World Pottery Institute and he even has a piece in the Smithsonian. Now his focus is Never Leave the Playground.
A grown-up at play
Jepson is in his 70s now and he literally spends his waking hours at play. He runs around, hops, crawls, juggles, rides a skateboard (and a variation thereof), elliptical bikes, and generally moves about the earth in very novel, random, playful ways. He's not only having fun and staying fit, he's also stimulating his brain in powerfully healthy ways according to research. More on that in a moment. Here's the video:
Jepson says that his play improves such brain skills as cognition and memory. He seems to be very spot-on according to several things I've been reading.
Todd Hargrove discusses play in chapter four of A Guide to Better Movement . He suggests: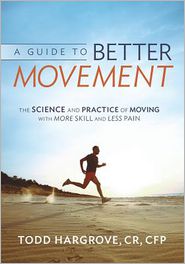 "In the contest of movement, play can be thought of as a safeguard against habitually using the same movement pattern to solve a particular motor challenge and ignoring potentially better solutions.
Thus we can look at our motivation to play as a natural incentive to experiment with new solutions, even if they don't appear superior at first glance. We could also look at play as a way to 'return to the drawing board' or start over from scratch on a movement problem without preconceived notions about the right or wrong way to move."
What this says to me is that novel, unusual movement gives us the opportunity to build a broad movement database or maybe a movement Swiss Army knife. We add to our available movement repertoire when we move in as many ways as possible in as many environments as possible: rolling on the ground, climbing, crawling, standing on different surfaces, moving at all speeds, lunging in many directions. Perhaps as a result, when confronted with a movement scenario that's a little out of the ordinary our brain may say, "Oh, I've been here before. I have multiple strategies for moving safely and effectively here."
The science of play & the brain
In his book, Hargrove references a NY Times article titled Taking Play Seriously. It states:
"For all its variety, however, there is something common to play in all its protean forms: variety itself. The essence of play is that the sequence of actions is fluid and scattered. In the words of Marc Bekoff, an evolutionary biologist at the University of Colorado, play is at its core ''a behavioral kaleidoscope.'"
 'I think of play as training for the unexpected,' Bekoff says. 'Behavioral flexibility and variability is adaptive; in animals it's really important to be able to change your behavior in a changing environment.' Play, he says, 'leads to mental suppleness and a broader behavioral vocabulary, which in turn helps the animal achieve success in the ways that matter: group dominance, mate selection, avoiding capture and finding food."
This flexibility and growth potential of the brain is known as neuroplasticity. Though Stephen Jepson doesn't use that word in his interview, he's talking all about neurplasticity as he describes the benefits to his brain and both vigorous physical activity and play. His thoughts are supported by research:
Inside my brain
All of this is enormously fascinating and inspiring to me. It has me thinking a lot about my own fitness process as well as that of my clients. I've been doing a little indoor rock climbing lately and that's a completely different type of workout. I've also done a little bit of cross-country skiing and I hope to take a lesson and increase my skill there. I look forward to trail running and mountain biking soon. I find both activities highly engaging, and both offer endless opportunities to negotiate with gravity in myriad different ways.
I've discussed my recent experience with the FASTER Global course this summer (Part I, Part II, Part III, Part IV). As a result, my eyes (and brain) have been opened very wide to almost infinite opportunities for innovative, play-like movement strategies.
My hope is that my clients are having some degree of fun already but now I'm thinking much more about injecting an aspect of play into our sessions. Lots to think about…